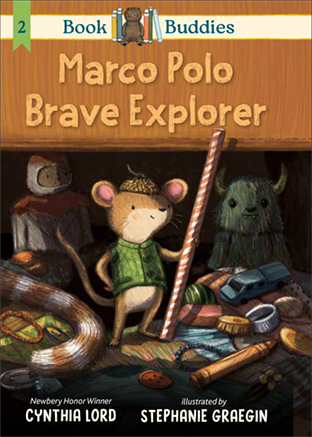 Book Buddies: Marco Polo Brave Explorer (2022)
Cynthia Lord (author)
Stephanie Graegin (illustrator)
Candlewick Press
Ages 6 to 9
Available at your local bookstore or
IndieBound Amazon B&N Books-A-Million
Also available as an audiobook and in ebook formats including Kindle, Nook, Kobo, iBook, and Google Play.
Free Book Buddies Activity Kit that includes discussion questions along with creative ideas to help young readers engage with the Book Buddy stories.
Click here for a printable 2022 mini calendar with the Marco Polo cover.
Click here for Discussion Questions for Marco Polo Brave Explorer.
Book Buddies: Marco Polo Brave Explorer
Brave explorers are never—
Marco Polo stopped. He had been afraid. But maybe even brave explorers get scared sometimes, he thought. Maybe they just keep trying anyway.
That gave Marco Polo a very brave idea. He didn't know if it would work, but as Anne had said, Sometimes it's good to take a chance.
He would escape.
But he wouldn't escape alone.
"Moby, wake up," he whispered. "I have an idea."
Can a brave toy mouse help a boy venture out of his comfort zone? Book Two of an illustrated series about friendly library toys and the children who borrow them.
Marco Polo is a toy mouse who used to be a Christmas tree ornament. Now he is one of the Book Buddies, toys that can be checked out of the library just like books. Marco Polo may be tiny, but he is also a brave explorer looking for an adventure. He finally finds the right match in Seth, a boy who wishes he could be more brave as he goes on his first sleepover. Marco Polo is the perfect size to hide away in Seth's sleeping bag. An unexpected adventure awaits both boy and mouse.
Marco Polo Brave Explorer is Book 2 in the Book Buddies series.
Awards and Honors
A Junior Library Guild Selection
Kirkus Reviews 10 Great Books for Your Vacation, 2022
"Lord's engaging narrative is well-attuned to the concerns of readers who find comfort in stuffed animals.... An appealing addition to the Book Buddies series." Booklist
"The series' second title gently explores children's fears and sensitivities. The message of empathy is reinforced by Graegin's soothingly retro art.... A charming balm for anxious small fry." Kirkus Reviews
"Sweet and sincere, the Book Buddies series is best suited to pre-ironic children ages 5-7. Cynics need not apply." Wall Street Journal